ABOUT FERAL CATS AND A PROGRAM CALLED
TRAP, NEUTER and RETURN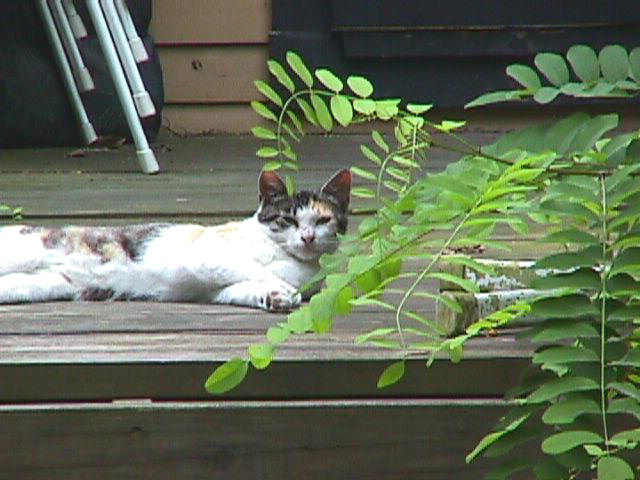 SHE'S FERAL AND LIVES IN A BACKYARD NEAR LONSDALE . . . .
WHAT ARE FERAL CATS?
You might call her an alley cat, a barn cat, or a street cat. No matter how you say it, she is a feral cat, unsocialized and living a valued life outside. Either she was born outside and never lived with a human family, or she is a house cat that has strayed from home, and over time, has reverted to a wild state. These unsterilized cats eventually form colonies, making their home wherever they can find food, avoiding human contact whenever possible. Tomcats prowl for mates, females become pregnant, and the cycle of reproduction continues.
FERAL CATS HAVE A HOME - OUTDOORS
Adult feral cats are part of all landscapes. They usually cannot be socialized and are content living outdoors. Feral kittens can often be tamed and placed in homes, but they must be socialized in their first weeks of life. This is a critical window and if they aren't handled in time, they will remain feral and therefore unadoptable.
FERAL IS NOT ANOTHER WORD FOR STRAY
A stray was once a companion house cat and was abandoned or strayed from home and became lost. Stray cats can often be re-socialized and adopted.
Trap, Neuter, and Return (TNR)
Trap, Neuter, and Return or TNR is a program in which stray and feral cats already living outdoors are humanely trapped, then evaluated, vaccinated, and sterilized by veterinarians. Kittens and tame (stray) cats are adopted into good homes. Healthy adult cats too wild to be adopted are returned to their outdoor home to be cared for by local volunteers for the rest of their lives. This ongoing care creates a safety net for both the cats and the community. No more kittens are born, and the feral cat population is humanely reduced through attrition.*
(*Source Alley Cat Allies)
CLICK HERE TO VIEW PACIFIC ANIMAL FOUNDATION'S FERAL CAT PRESENTATION TO NORTH VANCOUVER CITY COUNCIL - SEPTEMBER 2007.
Source for banner:
www.straypetadvocacy.org